An In-Depth Look Into Vechain (VET) - What is VET's Future?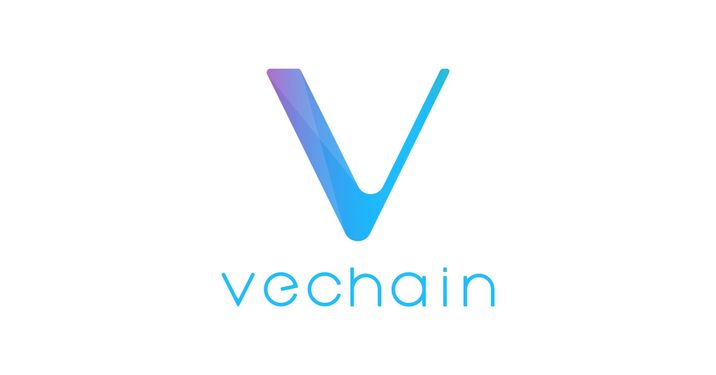 In today's world, Asia stands as one of the most important locations for blockchain research and some of the most promising cryptocurrency initiatives, with one of the most prime examples being VeChain (VET). Furthermore, the native token VET has achieved great success in the crypto sector and has emerged itself as a strong and successful investment option.
The question is what can we anticipate from VeChain in the future? Will the Vechain price rise or fall in the next year? 2 years? 5 years? What is VET's price history? What does its future look like? These are the basic questions that each investor should be thinking about before they choose to invest. This article will provide an overview of VeChain and its future prospects in terms of development and price rise.
What is Vechain (VET)?
VeChain (VET) was one of the first blockchains designed particularly for enterprise-level customers. The project's creators wanted to leverage distributed ledger technology in order to improve supply chain and product lifecycle management. In addition to this, the platform also provides customers with a number of additional features that make it suitable for companies looking to improve supply chain standards and business operations.
The logistics industry is currently plagued by an asymmetric information issue. While the systems in place take in a significant quantity of data, it is not shared effectively. Severe compartmentalization, for instance, forces the whole supply chain to rely on centralized data sources in most cases. This lack of cohesion then leads to a lack of transparency and data transmission delays in the end.
Businesses can make use of VeChain to keep track of a massive quantity of data. Transit status, quality, storage temperature, and authenticity are some of these indications. VeChain impressively manages to deliver all of these characteristics within a decentralized and trustless business environment. VeChain also minimizes overhead and promotes accountability in this way.
VeChain is distinct from other blockchain initiatives in many significant aspects. To begin with, the project's developers had no intent to establish a completely decentralized network. Instead, they aimed to combine the greatest aspects of the DeFi (decentralized finance) and CeFi (centralized finance) industries. As a result, this technique produced a balanced platform that allows for high-speed value transfers, transparent information flow, and efficient cooperation for users.
How Vechain (VET) Works?
The way that VeChain works is that it employs a number of innovative technologies to achieve its goal of streamlining the supply chain industry. For example, the platform monitors key data during shipment using a variety of RFID tags and sensors. This data is then disseminated in real time over the blockchain.
This technique allows for any stakeholders or market players to keep an eye on the item and ensure that it is in good working order and legitimate. Ultimately, this method is suitable and ideal for huge, complicated supply networks. VeChain is accomplished at maintaining track of these massive networks and keeping businesses informed of changes as they happen.
Internet of Things (IoT)
VeChain was one of the first companies and blockchains to combine IoT and DLT technology. VeChain otherwise was designed from the ground up with IoT integration in mind. The Internet of Things (IoT) is an innovative worldwide network of billions of smart gadgets that are now being used for many things. All of these gadgets are referred to as 'smart' because they include a sensor and the capacity to send data through the internet. Today, these gadgets can be anything from the television in your living room to doorbells to the phone you're holding in your hand right now.
It makes perfect sense to combine IoT with blockchain technologies, and VeChain took hold of this opportunity. Blockchain technology allows for low-cost, near-real-time monitoring of such a large volume of data through consensus. As a result, VeChain isn't the only initiative attempting to combine the two different technologies.
Proof of Authority
VeChain Thor adopts a consensus mechanism known as proof of authority in order to manage the process where transactions between users are confirmed and posted to the public ledger on VeChain. Authority Masternodes are users that add and verify transactions to the blockchain. In order to become one, users must stake at least a minimum of 25 million VET tokens and provide proof of identification to the VeChain Foundation.
While adopting a proof of authority mechanism allows for high transaction volumes to be processed quickly, it also has the drawback of relying on a central authority to inspect and approve users who may participate in transaction processing. It's worth noting that VeChain is continuously aiming to strengthen its consensus mechanism in order to assure a more randomized and distributed block generation method.
Two Token Design
VeChain's software is powered by two native tokens. The first is VET, which is used to store and transfer value, and the second is VTHO, which is used for blockchain transactions. By having two tokens, VeChain aims to separate VET coin price volatility from the cost of network calculations. This allows VeChain apps to charge steady fees (because the VTHO supply may be modified in order to maintain a steady price for transactions).
Miners get VTHO transaction fees for calculations executed by the network, similar to how the Ethereum blockchain utilizes ETH and gas. The more complicated the calculation, the more VTHO a software will need to perform. Finally, nodes who stake VET currencies can then vote on network enhancements and are ultimately rewarded with VTHO tokens per block.
Vechain (VET) Price History
Towards the end of July 2018, VeChain (VET) was first listed on cryptocurrency exchanges and traded between the $0.02-$0.026 range. However soon after, VeChain quickly broke out of that range and began to see significant volatility.
The price dropped to $0.006 per VET token throughout the beginning and the middle of August 2018. The dip was quickly followed by a recovering rally, with the coin reaching a price of $0.0198 by September. Unfortunately, the recovery lasted only briefly, and a protracted recession followed. The price had then decreased as low as $0.0033 by December. VeChain ended the year 2018 with an average trading price of $0.004.
The price of VET was locked in the $0.0036-$0.005 range in the first quarter 2019. The cryptocurrency was able to break out of the range in early March, climbing to $0.0079. The asset continued to grow after pulling back to $0.0056 in April, reaching a high of $0.0098 in June 2019.
VET unfortunately was unable to maintain these levels and plummeted until finding support around $0.0028 in late October. As the asset gained popularity, it swiftly rebounded and came to a resistance level at $0.008 in November. Its initial effort to break over this level failed, resulting in a retreat to $0.0046. VET plummeted to its last support of $0.0046 after hitting resistance at $0.008. VET's price per coin concluded the year 2019 at an average trading price of $0.0056.
VeChain had since then been steadily growing since the beginning of 2020, and in February, it retested the resistance level of $0.0082. Regrettably, the entire market had plummeted at that moment due to COVID-19. VET hit its new all time low of $0.0016 on March 13th. Following that, the cryptocurrency began to develop slowly but steadily, with minor fluctuations. VET broke through resistance at $0.0082 on June 11th, and buyers drove the price up to $0.022 in July. After that, there was a minor decline to $0.014.
VET managed to trade at $0.017 in early August 2020 after a continuous retreat. Following this, by mid-August, the price had dropped back to $0.0021, and by the end of August, it had dropped again to $0.0016. The VeChain (VET) price continued to fall for many months until the end of November, as bears held the market. Later, when the price of Bitcoin continued to rise, VET also jumped to $0.018 and then began to fall. By early December 2020, VET was still trading at $0.015, and by the end of the year, it took a light jump to $0.019 on a positive note.
What is the Future Of Vechain (VET)?
There's no doubt that VeChain (VET) has a bright future ahead of it. VeChain is known as one of the most successful enterprises when it comes to forming alliances. The team at VET is currently tackling difficulties in the supply chain and the medical industry, among other areas. Regardless, the team at VeChain is expected to develop rapidly and form new alliances in 2021.
Let's take a look at some of the already established partnerships. The E-HCert App made a partnership with VET and uses VeChain to record COVID-19 cases. VET has also collaborated with the China Alliance for Animal Health and Food Safety (CAFA). In addition to that, they have teamed up with Travala.com to accept VET as a payment method at millions of hotels across the world. In collaboration with the University of Oxford, VeChain presented a potential method for evaluating blockchain consensus systems.
The world's first Blockchain Intelligent Tumor Treatment Center was launched by VET, Renji Hospital, along with DNV GL. Another collaboration has also been made with Walmart China to develop a food-tracking software and they now have a joint venture with BYD, a Chinese carmaker. They have also begun implementing their own innovative solutions. For instance, VET is developing a mobile application that will track and record emission data from various automobiles. PwC, a global corporate auditing firm and VeChain have teamed up to expand the use of blockchain technology across Asia.
Vechain (VET) Price Predictions
The price of VeChain was $0.020 at the start of 2021. By the start of June, VeChain might be worth an average price of $0.3. Until the middle of 2021, the price may stay consistent around $0.3, with some swings according to many analysts.
VeChain's wide range of collaborations also suggest that the blockchain platform aims to offer the benefits of decentralized apps and smart contracts. WIth their currently established partnerships, they clearly aim to reach a wide range of businesses and target a wider audience on the global stage.
Crypto Academy notes that while some of the most well known experts in crypto suggest that it's unlikely for VET to reach $10 at any point in the near future, there are some other experts who believe quite the opposite. According to Crypto Academy, VeChain may very well reach an average trading price far beyond $10 by the next few years.
According to Coinpedia, VeChain might start the year 2022 with a price of $0.44 and stay in the same range of $0.04 with minor swings until the start of quarter three. It's possible that the price may rise to $0.5 and stay there for several months at a constant rate. VET might then fall within a range of $0.7 to $0.8 by the end of 2022, and with a severe bullish trend, it might even approach much closer to $1, according to the technical analysis at Coinpedia.
Additionally, VeChain is working on a blockchain-based platform that will not just be limited to the digital world but will also be able to meet the needs of real-world business ecosystems.. With the help of this blockchain, businesses will be able to handle a variety of operations and offer far more than a simple decentralized blockchain platform.
It will be far easier for blockchain to gain a high level of adoption if it is able to give comprehensive integration of the blockchain-based platform to businesses in the real world. VeChain might be worth $5 by 2025, according to Coinpedia. However if, on the other hand, the bear market reverses the upswing, the risk of the price plummeting to as low as $0.25 to $3 also may be likely.
VeChain is forecasted to trade between $0.19 and $0.31 in the following year, according to WalletInvestor. Furthermore, by the end of 2026, the price is predicted to reach $0.86, as per analysts at WalletInvestor. DigitalCoinPrice is one of the more enthusiastic analysts in the crypto space. They are predicting that VeChain (VET) would rise to an average trading price of $0.28 by the end of 2021. The price is predicted to hit $0.57 by the end of 2025, according to DigitalCoinPrice.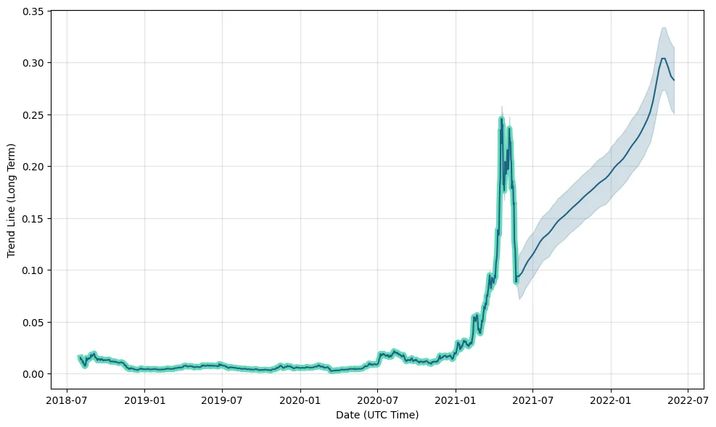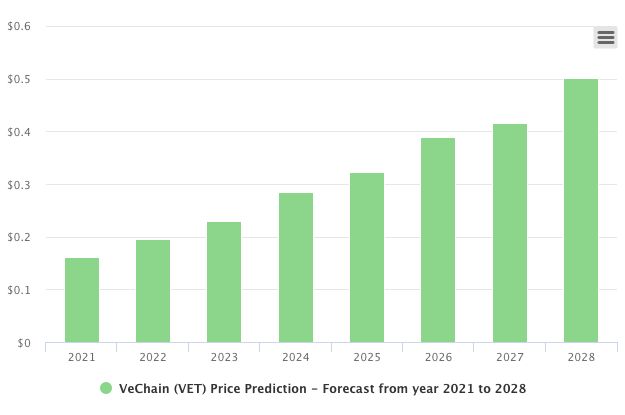 According to Coinswitch, another noble forecasting site, the VET price might hit $0.39 in 2023 before plummeting to $0.1 in 2025. According to Primexbt, the price is predicted to trade around the price of $0.4 by the end of 2021. Furthermore, the market may face a significant pullback in 2022-23, dragging the price below $0.1 in a likely scenario according to Primexbt.
Conclusion
The sky is the limit now that VeChain (VET) has its own platform, a proven track record of delivering on promises, and attractive collaborations with significant corporations.
Future announcements regarding their collaborations with BMW and Renault are also planned, and it's unclear how many additional firms VeChain will recruit under PwC's umbrella. With so many significant partners to its name and real-world use, the currency is often regarded as a smart option for investors and an overall wise addition to your portfolio.