Book Unique Accommodations with Bitcoin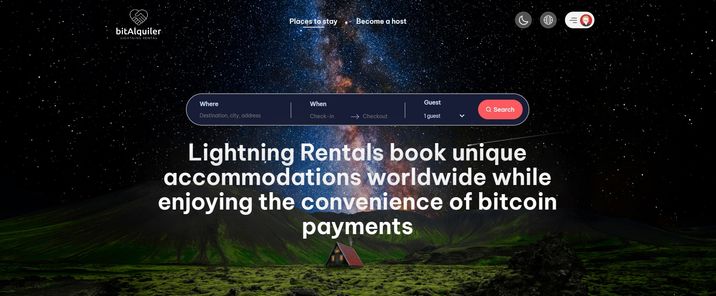 Hey there, fellow travelers! Have you ever dreamed of exploring exotic destinations while enjoying the convenience and security of bitcoin payments? Well, get ready to embark on a digital adventure with BitAlquiler.
At BitAlquiler, we strive to provide you with a seamless and innovative platform for booking exclusive accommodations around the world, which can be made possible by the power of cryptocurrencies. We understand the evolving needs of modern travelers, and that's why we have combined the best features of popular platforms like Airbnb with the flexibility and freedom of the Bitcoin Lightning Network.
With BitAlquiler, you can embrace the world of crypto-based rentals as a convenient addition to traditional payment methods. Whether you're looking for a luxurious villa, a cozy apartment, or a unique getaway, our platform offers a wide range of options to suit every taste and budget. Say hello to a new way of booking accommodations and let your Bitcoin take you on unforgettable journeys.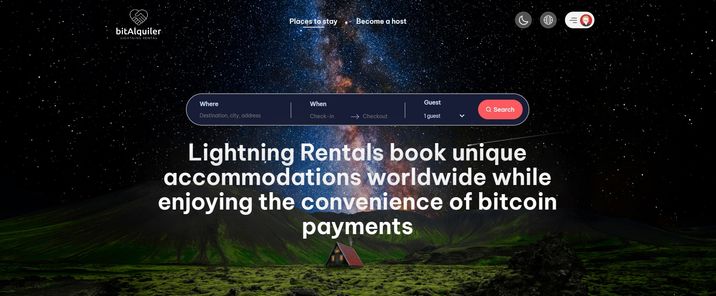 Now let's dive into the world of BitAlquiler and discover exciting possibilities for your next travel adventure.
Getting Started
To begin your crypto-powered adventure with BitAlquiler, the first step is to create an account. It is a straightforward process that involves providing some basic information and setting up a secure crypto wallet. We take the security of your account seriously, so be sure to follow their recommended guidelines for password creation and two-factor authentication.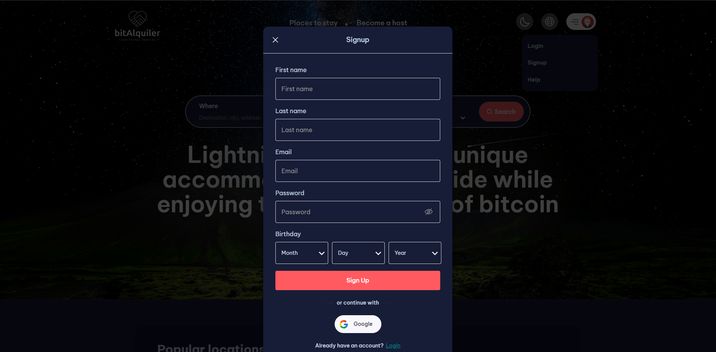 Finding Deals on BitAlquiler.com
After creating an account, you'll gain access to browse through a diverse range of accommodations or even search for places using the filter and search option. Once you've found the perfect accommodation that aligns with your needs, you can go ahead and book it. BitAlquiler ensures a seamless booking experience, allowing you to browse listings, read detailed descriptions, view high-quality photos, and compare prices. You can easily make your reservation using the bitcoin lightning network, eliminating the need for traditional banking methods and their associated fees.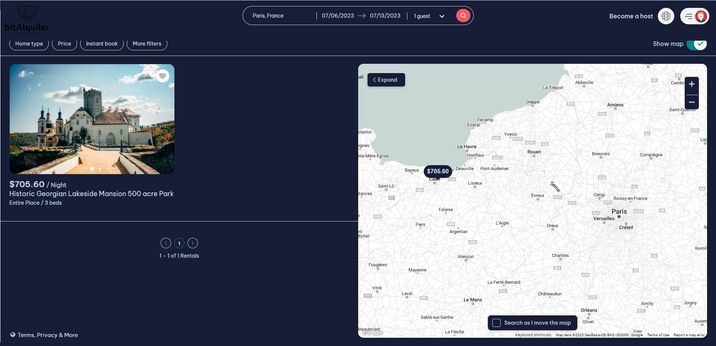 What Sets it Apart?
Crypto Payment Process
What sets bitAlquiler apart is the commitment to embracing digital currencies. "We understand the growing popularity and appeal of bitcoin, and we're proud to be at the forefront of integrating this innovative payment method into the travel industry. By accepting bitcoin payments, we provide our users with an additional layer of privacy, security, and global accessibility. Say no more to slow transactions and enjoy lightning-fast bookings!"
Seamless Booking Experience
Our user-friendly and interactive interface also ensures a seamless booking experience. Each listing provides detailed information about the property, including descriptions, photos, and reviews from previous guests. You can compare prices, check availability, and even communicate directly with hosts to clarify any queries you may have.
Ensuring Safety and Trust
Here at BitAlquiler, we understand the importance of trust and safety within the travel community. To encourage a secure atmosphere, the site employs strict host verification measures, such as identity checks and evaluations from prior guests. Furthermore, the BitAlquiler community plays an important part in fostering trust, with users posting reviews and ratings to assist others in making educated selections. Rest assured that BitAlquiler attempts to provide a safe and dependable platform for your travel needs.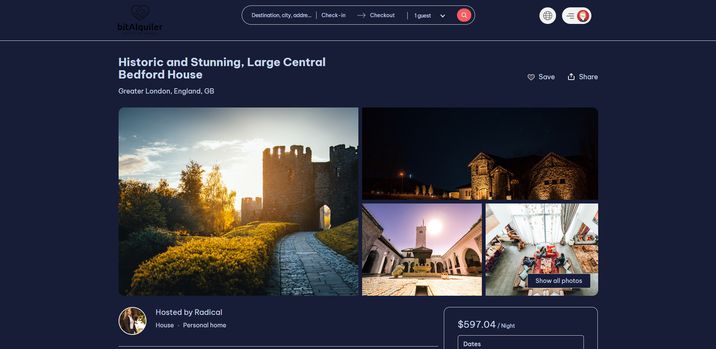 Host on Your Own Terms
Hosting with BitAlquiler opens up a whole new universe of opportunities for you. Whether you want to earn additional money or engage with a thriving community, we offer a platform for you to do so. As a host, you will have the opportunity to meet new people from all over the world, establish meaningful connections, and possibly form long-lasting friendships. Responding quickly to guest communications and delivering outstanding service will help you create a reputation that leads to favorable reviews, increased bookings, and possibly Superhost status.
With BitAlquiler's large crypto audience, you have the advantage of tapping into a growing market and accepting payments in Bitcoin, offering a unique and convenient experience for both you and your guests. Listing your properties takes just a few minutes, allowing you to showcase your accommodations to a global audience and increase your bookings.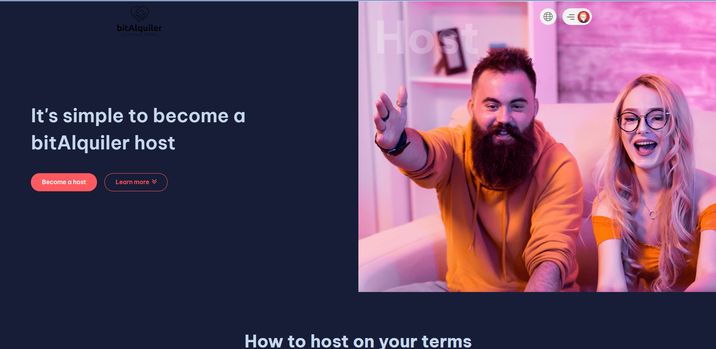 Conclusion
With BitAlquiler, booking accommodations with crypto has never been easier or more exciting. By embracing the power of cryptocurrencies, you can enjoy seamless transactions, enhanced privacy, and a world of unique accommodations at your fingertips.
Join our community of like-minded travelers who value convenience, privacy, and cutting-edge technology. Start your journey today and explore the world with us, using bitcoin lightning as your trusted travel companion. Happy Travels!