An In-Depth Look Into Cardano (ADA) - What is ADA's Future?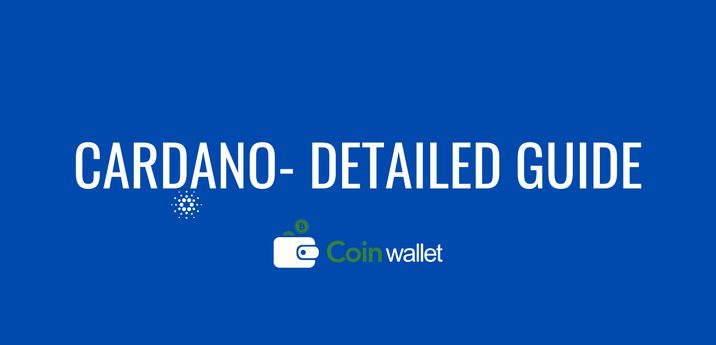 Smart contracts have become a huge business in recent years, and they're not only huge in Japan; they have become a global eye-catcher. When Ethereum first introduced the notion of smart contracts, the second wave of blockchain technology arose. Blockchain eventually became more versatile and accessible as a result of the opening up of a universe of easy-to-implement token applications.
Cardano, along with its native coin ADA has recently earned greater notoriety as one of the rising numbers of proof-of-stake blockchains under development in the large crypto community. The Cardano project advertises its protocol as a "third-generation" blockchain that will allow the use of smart contracts and supply chain traceability and governance.
In this article, we're gonna touch on the topic of Cardano, and more specifically what Cardano is, how it works, its future, along with its price analysis and long-term predictions.
What is Cardano (ADA)?
Cardano (ADA) is one of the leading and most valuable cryptocurrencies to date in terms of market capitalization. Its concept and technology are envisioned as a next-generation version of Ethereum. With a blockchain that acts as a flexible, sustainable, and scalable platform for executing smart contracts, it allows the creation of a variety of decentralized finance apps, new cryptocurrencies, games, and more.
The native token of the Cardano blockchain is ADA, which can be purchased or sold on many well-known crypto exchanges. On the Cardano network, ADA can be used to hold assets (similar to an investment portfolio), send and receive money transfers, as well as stake and pay transaction fees.
The Cardano platform's native cryptocurrency is ADA (named after Ada Lovelace, a 19th-century mathematician who is referred to as the world's first computer programmer). ADA is planned to be used as a governance token in the future, allowing holders to vote on Cardano platform updates and upgrades.
How Cardano (ADA) Works?
One of the biggest goals of Cardano (ADA) is to be the most environmentally friendly blockchain platform available. Instead of the energy-intensive, proof-of-work approach used by Bitcoin and Ethereum, it uses a unique proof-of-stake consensus mechanism called Ouroboros. This is an approach that Ethereum has also planned to adopt as well.
The Cardano blockchain is split into two layers: the Cardano Settlement Layer (CSL) and the Cardano Computing Layer (CCL). The ledger of accounts and balances is kept in CSL, where transaction validation also takes place via the Ouroboros consensus mechanism. Following that, all the calculations for applications operating on the blockchain — via smart contract operations, are performed in the CCL layer. Splitting the blockchain into two different layers gives the Cardano network the opportunity to process up to a million transactions per second.
Interoperability
Today, thousands of cryptocurrencies are available, and each of them has its own set of qualities, perks, and ecosystems. Cardano is attempting to develop and set forth standards in the industry in order to facilitate network interoperability. System upgrade mechanisms, blockchain governance frameworks, and feature sets are all part of these systems.
Security
Allowing blockchain interoperability tends to bring along with it a new set of risks for developers to consider. Cardano intends to address these security vulnerabilities in the future. The platform at this point put standards in place in order to manage privacy, security, and decentralization.
Scalability
Cardano (ADA) in its early days, could only process about 10 transactions per second (TPS). However, the founder Charles Hoskinson recently published a paper introducing Hydra, a revolutionary network scaling concept. Hydra is a Layer 2 scaling solution that can process transactions off-chain via state channels. Cardano, by using this technology, can process over one million transactions per second.
Ouroboros
As mentioned above, Ouroboros is a unique consensus technique presented by Cardano. Ouroboros is a proof-of-stake technique based on a chan. It relies on leaders who are picked randomly in order to approve blocks. The nodes that contribute to the next block, like other blockchains, are rewarded for their work.
The mechanism overall chooses leaders from the stakeholder pool at the start of each historical period. Epochs are a snapshot of the blockchain taken at a specific point in time. Epochs must come from a block that is sufficiently deep in the transaction chain. Epochs have to come from a block that is sufficiently deep in the transaction chain. In order to keep the network security up and get rid of the risk of chain modifications, depth is required.
The overall technicalities behind this system are remarkable. Leaders are elected using a random seed and a preset stake distribution. In order to produce randomly, this seed makes use of multi-party computation (MPC) amongst stakeholders from the preceding epoch. Stakeholders can then increase their chances of getting chosen by staking a larger number of ADA. As a result, Cardano provides the first provably safe proof-of-stake protocol.
Cardano (ADA) Price History
Cardano had a tremendous amount of success since its first launch back in 2017. Cardano's team had earned more than $63 million during its initial coin offering (ICO) to help fund and boost the project's development. ADA witnessed spiking growth in the first week after its debut, skyrocketing in value and reaching a market cap of over $600 million by early October 2017.
It was then very rapidly listed on a couple of the major cryptocurrency exchanges. On November 29, 2017, ADA gained 142.4 percent in value, bringing its market capitalization to $3.5 billion.
The cryptocurrency's value later reached $1.16 at the beginning of 2018, with a market valuation of over $33 billion at that point. However, this did not last very long. The rebound was short-lived because things turned bearish. The price unexpectedly and quickly devolved into ashes and plummeted below $0.04, signaling the end of 2018.
However, Cardano (ADA) had a great start to 2019 with a strong first half. The price initially fell after hitting $0.05 on January 9th, until regaining support around $0.03 on February 6th. On April 3rd, 2019, investors exhibited their increasing interest, pushing ADA to $0.10.
Cardano tried roughly five times to break over the barrier at $0.10 after a brief setback to $0.05. Then, ADA reached $0.11 on June 26, 2019, however, sellers jumped in and pulled the price down again. The rest of the year was mostly negative for Cardano, with support only coming in December around $0.03 per ADA.
On a more pessimistic note, ADA was still trading around $0.03 at the start of 2020. Around mid-February, the price hit $0.06 with some minor fluctuations. After some time, the value of the currency began to dwindle. In March 2020, the price plummeted to $0.02 when the crypto market plunged as a result of the Covid-19 outbreak. The price rose steadily to $0.15 toward the end of July, indicating a sustained and calm recovery.
By the end of September 2020, the price had dropped again to $0.07. However, when Bitcoin's price began to rise, the price of ADA rose rapidly to $0.17 at the end of November. ADA finished off the year 2020 with an average trading price of $0.17, also with minor fluctuations.
What is the Future Of Cardano (ADA)?
Byron, Shelley, Goguen, Basho, and Voltaire are the five primary phases in Cardano's roadmap and future plans. The network itself was initially launched in the first phase, Byron, with only basic functions such as ADA transfer. Then the Shelley hard fork in 2020 aimed to increase decentralization even more.
Overall, nodes are currently managed by the Cardano community, while staking pools are managed by ADA holders. This key functionality will be included in the Goguen update, according to the roadmap set out by Cardano. Following Goguin, the Basho update focuses mostly on maximizing scalability and interoperability, while the Voltaire update aims on offering a governing treasure system.
Many cryptocurrencies, including Cardano, have had a relatively successful year in 2021 up until this point. At the start of the year, the coin began to rise in value. The price had topped 10 cents last year and had continued to rise steadily since then. By the end of February 2021, the price had easily surpassed the $1 mark and kept an upward trend since. Despite minor pullbacks and fluctuations, the price managed to stay over $1.
Cardano (ADA) hit an all-time high of $1.97 later in May after the Cardano Foundation released an infographic explaining that the ADA coin is suited for Tesla. This drew loads of attention to what it sees as parallels between the two parties.
Cardano is also putting effort into decentralizing entirely by implementing strong, community-driven governance as well as an automated treasury mechanism in order to fund the network's development.
Cardano (ADA) Price Predictions
One ADA coin is currently worth $1.73 at the time of writing. It also currently holds a trading volume of $6.44 billion and ranks #5 in market rank according to market capitalization, of which it currently stands at $55 billion.
The usage of the platform itself is one of the biggest drivers which is most likely to cause price climbs in the case of ADA crypto. This is all because the Cardano network requires ADA coins in order to execute decentralized apps (dApps). Because of this, as more individuals utilize the network, the demand for tokens rises, and the price of ADA may also theoretically continue to rise.
According to some recent forecasts, ADA is expected to rise overall in 2021 as well as the near future. Throughout this year, Cardano may have its largest value increase and may also set a new all-time high. ADA might hit $10 by the end of 2021. Predicting the price of crypto is one of the most challenging tasks due to the market's strong volatility. It's often helpful to consider the opinions of certain analysts and media on the Cardano price forecast, which will provide us with a more accurate picture. Let's take a look at what some notable experts say about the future price of ADA.
The ADA would likely begin in 2022 at a price of $12, according to Coinpedia. If it focuses on certain initiatives and attracts additional investors, the price might hit new heights. Cardano might be worth roughly $22 by the end of 2022.
On top of that, Cardano may even gain greater success in 5 years or more, since there are more collaborations and integrations planned for their future. This will play a huge role and influence ADA in the long run. With that said, Cardano might be worth $100 in five years according to Coinpedia.
Smartereum author Adam Web notes that ADA's future looks quite promising, noting that the ADA token's one-year projection may be around $2.50, with a large potential to reach close to $10 in five years. According to WalletInvestor, Cardano is expected to trade between $1.26 and $2.17 in the following year and might reach $5.70 by 2026.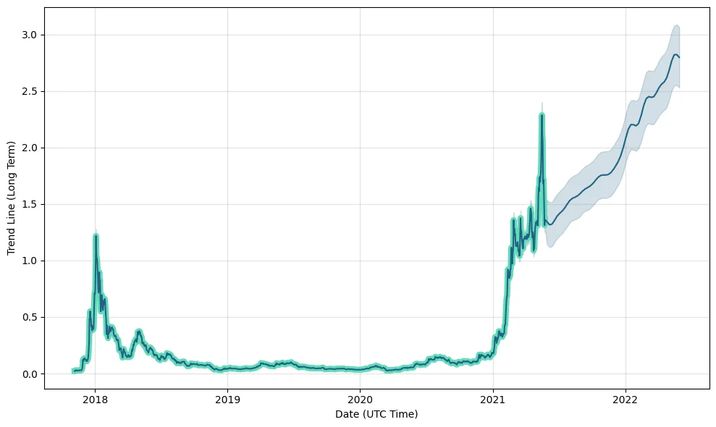 Furthermore, Cardano is forecasted to reach $1.29 by the end of this year, and $1.60 by the end of 2024, according to TradingBeasts. This platform has forecasted a Cardano price of $2 in the future, which is an optimistic viewpoint. They estimate that ADA could be worth more than $3 in five years.
Investing in Cardano now may provide very significant returns. Hopes are high that ADA may concentrate on growing its user base and protocol, as well as attracting new investors in the future. The only thing that might derail this optimistic trend will be unfortunate negative market views and attitudes.
Conclusion
There's no doubt that Cardano will be a leading player in the blockchain industry for many years to come, given its large user base, rapidly expanding network, and future collaborations. As time goes on and the industry develops, its unique strategy and technological breakthroughs will definitely remain a hot issue. And for the time being, ADA is holding its place strong among the top 15 cryptocurrencies in the world. For what is to come, we must wait and see.