Everything you Want to Know About Dogecoin - The Cryptocurrency that Started as a Meme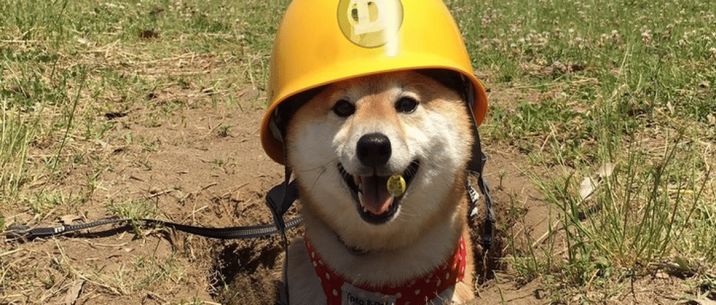 Dogecoin, or otherwise known as the cryptocurrency that had only begun as a meme, has outshined the crypto market and surged in value only over recent weeks. Some say it's the result of celebrity endorsements, particularly by Elon Musk, the CEO of Tesla and the top wealthiest people in the world.
The coin is a first-generation cryptocurrency that can be used to securely send money around the world. It's well-known for featuring the Shiba Inu from popular internet memes. Dogecoin spiked 400 percent in the last month and it has gone up by more than 6,000 percent since the start of the year. So let's get straight into everything you want to know; what is Dogecoin, its price history, future predictions, why its price is currently surging, and more.
What is Dogecoin?
Dogecoin (DOGE) is a peer-to-peer cryptocurrency that got its name from a well-known internet meme. It first started off as a joke but ended up being far more serious than most of us expected. Founded in 2013, Dogecoin made its way into the crypto world and along the way has built its place as one of the top coins in the world. The question is, how did it get there?
It began only as a way to ridicule a rather serious industry, but it soon grew into a thriving culture of fans. Since 2013, it has come a long way, reaching a record market cap of $2 billion during the January 2018 crypto hype.
The main objective behind Dogecoin, similar to Bitcoin and Litecoin, is to enable censorship-resistant peer-to-peer transactions. Thanks to recent price surges, Dogecoin has received a lot of media attention, and some noble celebrity endorsements.
The coin offers a variety of advantages to the industry. For starters, you will use this coin in the same way as Bitcoin can be used to transfer money to everyone in the world easily and securely. The coin's network has grown more than ever since 2013, and more and more vendors are beginning to support this one-of-a-kind token as a form of payment.
Why is Dogecoin Price Surging?
Dogecoin made waves earlier this year when its popularity skyrocketed. According to Coinmarketcap, DOGE was trading at $0.085 per coin at its peak on February 7th. Since then, which is roughly 2 months, it has quadrupled in price. Many crypto analysts and experts have been trying to figure out why the price of DOGE has climbed new heights all of a sudden. The conclusion is that there are actually a couple of reasons.
CEO of the Scandinavian fintech Skilling, Michael Kamerman, told Express UK that Dogecoin's structure is what makes it stand out from other altcoins. DOGE tokens, for instance, are inflationary, meaning that the supply is endless, unlike Bitcoin, which has a limited supply hardwired into its technology. This factor promotes the success of Dogecoin because it encourages crypto miners to dig for more DOGE.
Kamerman also pointed out that the FOMO effect is at its peak and the pressure to invest keeps getting higher and higher. DOGE investors have been waiting patiently for the coin's price to spike and those early who mined or purchased the token when it was worth pennies on the dollar will now cash out with significant profit margins. Just a year ago, the price of DOGE was $0.0019.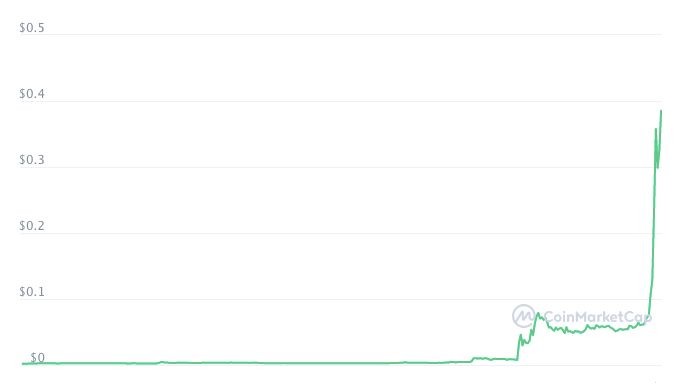 Others have credited Dogecoin's success to its founders' and community's lightheartedness according to Yahoo Finance. The coin was initially created as a joke, to humble down an industry that seemed rather too serious. Not only did the Dogecoin community raise funds for a variety of charities and social causes, but they also collected money to give back to Dogecoin holders who had their funds hacked and stolen. The community behind Dogecoin is still one of the biggest reasons for its growth today.
The Telegraph says that Dogecoin has simply risen in popularity among crypto enthusiasts as a method of making quick money. Its growth in value is owed to its success in internet forums such as Reddit, and its potential to make a fast buck, over it having any meaningful potential as a cryptocurrency.
On top of this, the coin is also famous because it refers to a long-running internet meme, and some of its internet followers, known as the "doge army," see its rise to fame as entertainment.
CNBC noted that Coinbase's IPO last week also accounted for Dogecoin's recent price surge. The most widely-used cryptocurrency exchange in the US went public, and this overall caused numerous cryptocurrency prices to skyrocket.
In addition to all this, one of the biggest effects on Dogecoin's price recently is because of Elon Musk. During January and February 2021, Tesla CEO Elon Musk tweeted about DOGE multiple times. Fantasizing whether or not the currency could climb up to one dollar. The effect? Let's take a look.
The Interference of Elon Musk
If you own a Twitter account, you're likely well aware of one billionaire that holds the power to make or break the market with a single tweet. Cryptocurrencies seem to be one of Tesla and SpaceX CEO, Elon Musk's favorite topics. With a single tweet hinting at what or what not to do, we've seen the market shift 180 degrees. This came following Tesla Motors' acquisition of Bitcoin and the adoption of Bitcoin as payment.
Dogecoin, which initially was only meant to be a meme, and is now a cryptocurrency with a market cap of almost $50 billion, seems to have caught the most of his attention.
Musk has single-handedly propelled Dogecoin to a new all-time high after posting various tweets back in January and February.
DOGE was worth less than a dollar cent at the time. People began buying Dogecoin in large batches, and the coin made worldwide headlines. It became a hot topic and then surged to $0.08, bumping it up to the top 20 cryptocurrencies. Musk later clarified that the tweets were "only meant as a joke," oblivious to the impact of his words.
Doge Barking at the Moon pic.twitter.com/QFB81D7zOL

— Elon Musk (@elonmusk) April 15, 2021
Dogecoin is now the billionaire's favorite crypto coin and even came out in favor of blockchain after having purchased $1.5 billion worth of Bitcoin through Tesla earlier this year. However, his impact on the market through his endorsements on social media has also caused some worry among other investors. Retail investors, according to Nic Carter, the co-founder of Castle Island Ventures, are going to risk their money on Dogecoin, labeling it as a "vehicle for speculation" as per CNBC.
Dogecoin Price History
Dogecoin launched back in December 2013 with a market cap of $3.5 million and a price of $0.0006 at the time. It then continued on an upward trajectory for a year, doubling exponentially.
2014, however, wasn't too great of a year for Dogecoin. The rise of new altcoins such as NEO, Stellar, and Monero entered the market, and traders focused their attention on them. DOGE then dropped to a value of $0.0001.
Then, in 2015, co-founder Jackson Palmer had left the group unexpectedly with the goal of focusing on blockchain's strategic aspects. Investors were worried that DOGE would die soon after that, but then, the price went up to $0.00014 at the end of 2015.
Dogecoin, on the other hand, did not break through the $0.0002-0.0003 price barrier until 2017. Investors then began buying DOGE for personal use and the altcoin's market cap slowly began growing. In the spring of 2017, the coin's price skyrocketed to $0.003 before continuing to fluctuate. It then soared abruptly to $0.007 at the end of 2017.
Many altcoins' prices began to fall in the first half of 2018 when several Southeast Asian countries tightened state control of the cryptocurrency industry. Dogecoin was no exception, but the price soon began to recover and reached $0.017. It maintained a stable position on the market going forward. In April 2018, the price dropped again to $0.002 and ended the year off just the same.
However, for the majority of 2019, the altcoin traded sideways. A small rally accounted for a short spike up to $0.004 in July, but by the end of the third quarter, it had lost much of its gains. Toward the end of 2019, Dogecoin was back tethering at $0.003. Then it ended the year at $0.002.
It maintained this position for the first quarter of 2020 until it plunged in March, going down to $0.0015. By July, it had reached $0.004 as a result of market fluctuations. It started an upward trend in November, correlating along with Bitcoin's price surge. It ended off 2020 at $0.004.
DOGE started off in 2021 at $0.007, which presented a bullish sign. On April 16th, Dogecoin shattered all previous price records and climbed to an all-time high of $0.44 according to Coinmarketcap.
What Will Happen With Dogecoin? - Price Predictions
The value of Dogecoin is skyrocketing. It's become a viable investment option for experienced traders and rookie investors alike. However, it's quite difficult for experts to make a Dogecoin price forecast. This is mainly because of the diversity of factors that have affected its price so far, including social media interest and power. At the time of writing, the price of DOGE is $0.37, which may not seem like much, until you compare it with its 2020 closing value of $0.004. Let's see what experts have gathered for the future of Dogecoin.
Coinpedia
Coinpedia suggests that its level of competition may grow in 2021 and even climb up on its ranking. With this in mind, they forecast Dogecoin to reach its all-time peak of $1 by the end of 2021.
Additionally, they predict DOGE to start off in 2022 at a value of $1.5. If they're able to catch the attention of other "Elon Musks," it may well be in a spot to reach $10 by the end of the year.
Further than that, they expect Dogecoin to hit $20 in the next five years. If it's a smooth ride until then, there's potential to hit $50. It has the potential to innovate and form partnerships with other ventures, as well as gain the interest of crypto experts.
WalletInvestor
Dogecoin is a decent long-term bet, according to WalletInvestor. They forecast DOGE to close off 2021 at a price of $0.33, 2022 at a price of $0.37, and 2025 at $0.51.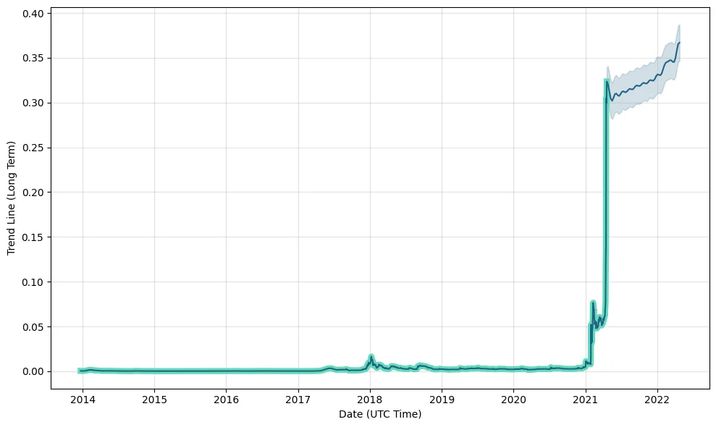 TradingBeasts
Dogecoin's price is expected to rise in the coming years, according to TradingBeasts. In the year 2021, it may trade between $0.41 and $0.42. By 2023, Dogecoin may have established a selling price of $0.40 as the lowest and $0.64 as the highest.
Zakaria M.
One of the most well-known Steemit bloggers, Zakaria M, predicts that a single Dogecoin would be worth $1 by 2025. It was also mentioned that up to $10 is still a fair bet in five years' time.
PrimeXBT
PrimeXBT believes Dogecoin is set for another breakout between 2024 and 2025, going hand-in-hand with Bitcoin's halving theory. By then, it will have already fallen out of favor or reached a promising value of $1 per coin.
DigitalCoinPrice
DigitalCoinPrice also provided some optimistic average prices for Dogecoin in the coming years. They predict the coin to reach prices up to $0.59 in 2021, $0.72 in 2022, and $1.16 later in 2025.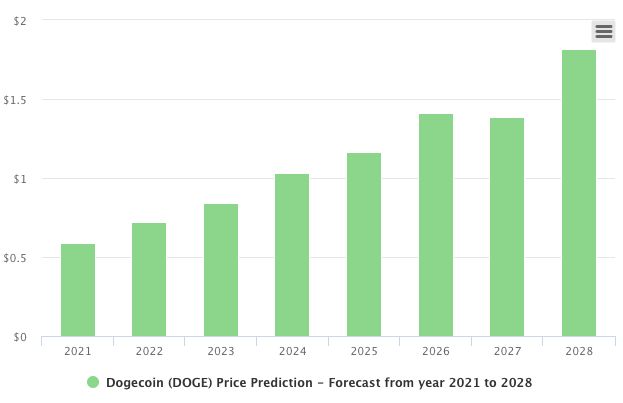 Conclusion
What only began as an internet meme, we would have never projected that it would turn into one of the most popular digital coins on the market today. Dogecoin may lack lofty ambitions and flashy features to turn the network, but it does have one of the most vibrant cultures and dedicated communities in the crypto world. The fanbase doesn't take themselves too seriously and all consist of super lighthearted and cool participants who believe in the underlying values of the coin. On top of having one of the world's billionaires as its number one fan, the community has proved itself enthusiastic and committed about where the cryptocurrency is headed. Dogecoin has risen to the top—all due to the vibrant and passionate Dogecoin group.