An In-Depth Look Into Kusama (KSM) - What is KSM's Future?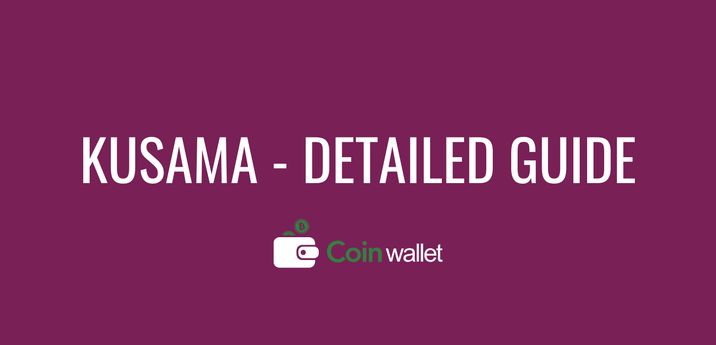 Kusama - also known as KSM, is an experimental and fast-moving version of its more well-known cousin Polkadot (DOT). It was designed in order to test and refine interoperability and scalability functions before they were deployed on the Polkadot network. Kusama has very low entrance hurdles, meaning it's very keen to cater to early-stage projects with unique and experimental concepts.
Are you eager to learn more about Kusama, how it works, and where it's headed? Then you've come to the right spot. This article will teach you all you need to know about Kusama (KSM) and get you ready to start trading in no time and in the most user-friendly way possible.
What is Kusama (KSM)?
Kusama (KSM) is an experimental, public, and refined version of its family coin, Polkadot (DOT). It operates on Polkadot blockchain's first unaudited release as a testnet for the DOT ecosystem. The idea behind Kusama is that any developer can attempt to try out early versions of Polkadot projects in a real-world setting through KSM. Kusama is a very crucial part of the DOT network because it serves as a "Canary Network." This means that it allows major upgrades and code releases to be extensively tested and validated before being released to the general public on Polkadot.
Kusama, like any other blockchain, also has its native cryptocurrency token; KSM. KSM is not an ERC20 token due to the fact that Kusama manages the network using its own blockchain technology. It has its own token for a number of reasons. Firstly, it's used for network governance. It is also staked for the purpose of network operation and it is bonded to link a chain to Kusama as a parachain. And, of course, it also serves as a utility token for network users.
The team at Kusama brought KSM to life in 2016. Some of the core team members include Gavin Wood, Robert Habermeier, and Peter Czaban, who are also the designer of Polkadot. Anyone who was in possession of DOT indicator tokens at the time of release were also able to claim KSM in July 2019.
Gavin Wood is also president of the Web3 Foundation, which managed the token sale for both Polkadot and Kusama. Interestingly enough, Web3 launched Kusama before DOT, with a $1.71 launching price in December 2019. The distribution for Kusama could be noted as very similar to Polkadot's, where users who purchased DOT during the pre-sale period were also eligible to get an equivalent quantity of KSM.
One of Kusama's biggest competitive advantages is that it holds a unique position as Polkadot's canary network, as mentioned above. This means that it has a "first-mover" advantage on many new dApps and initiatives for the Polkadot ecosystem. Many dApps will debut on Kusama before they move on to the Polkadot network to stabilize and update their products.
How Kusama (KSM) Works?
So how does Kusama (KSM) really work? Uniquely, there are two different types of blockchains that can be created on the Kusama network. The primary Kusama blockchain, firstly, is called the Relay Chain. This is where transactions are often completed. The Relay Chain isolated the task of adding new transactions from the process of validating those transactions in order to gain better processing speed. Parachains, on the other hand, are customized blockchain that rely on the Relay Chain's computational power in order to verify the accuracy of transactions.
The Relay System
The Kusama Relay Chain, as mentioned above, is mainly used for completing transactions. It utilizes a proof-of-stake (PoS) consensus mechanism called nominated proof-of-stake (NPoS) in order to maintain its network agreement on the state of the system. Anybody who stakes KSM in a specific contract is allowed to perform one or more of the following jobs that are required for its operation through the NPoS system:
Nominators, choose dependable validators in order to stabilize and secure the Relay Chain. Validators receive nominators' stoked KSM tokens and hence receive nominators' votes.
Validators are utilized to ensure data in the parachain blocks are correct and validated. While this is their primary function, they also take part in network consensus and vote on suggested modifications.
Overall, KSM incentives are available and distributed among users that invest into KSM and execute various responsibilities.
Kusama Governance
Governance is a key aspect of any blockchain network. In Kusama, users can influence the software's development and governing decisions in multiple ways. Let's take a look at a couple of them:
Technical Committee (TC) - In the TC, users can offer exceptional proposals in the event of an emergency. The Technical Committee is made up of various teams who are actively developing the Kusama network and construction. Members within this committee are elected by members of the Council.
Council of State - KSM holders can elect Council members, whose main responsibilities are to propose modifications and select whether changes are implemented in the program. This council had initially begun with 7 representatives, but as the Kusama community grew larger, so did the Council.
The Referendum Chamber - Anyone who buys KSM tokens has the ability to propose network modifications and vote on important changes made by others.
Kusama vs Polkadot
As we said, Kusama is a canary network and family member to the Polkadot network. However, there are minor differences that must be touched upon in order to understand how Kusama works. The first note is that Kusama is marketed as a "canary network" for the Polkadot blockchain. This means that it delivers early code releases that are unaudited and available before they are deployed on the Polkadot blockchain.
So we've established the notion of a canary network. Now we have governance systems as another big difference. Kusama takes the win when it comes to speed in governance systems. In Kusama, voting on a referendum takes seven days, and implementing changes takes eight days, compared to a month on Polkadot.
Secondly, being a validator on Kusama is considerably easier than on Polkadot since the minimum staking requirements are generally lower. It's crucial to remember that Kusama is a blockchain for experimentation, and that it sacrifices stability and security in order to enhance network speed.
Lastly, we have Parachains, or independent layer-1 blockchains, which we mentioned earlier. Parachains are also used by Kusama, allowing users to engage in token schemes and incentives not typically available on the Kusama Network. Projects must earn a spot in Parachain Auctions in order to use parachains. It's important to note that not only are parachain slots expensive, but they also demand that KSM be locked for the life of the lease.
Kusama (KSM) Price History
KSM started off its trading journey at an average price of $1.5 in the beginning of 2020, according to Coinmarketcap. It remained silent until the last week of August 2020, when it skyrocketed. The coin's trading volume increased throughout this time, allowing it to achieve an all-time high of $60.04 on September 3rd, 2020.
Unfortunately, it had suddenly dropped over 50% within a few days of reaching its all-time high. However it then managed to hold a spot above $25 until November 2020. At that point, the price recovered positive momentum and accelerated the bull run by heading towards a steep uptrend. Kusama then exceeded its all-time high and surged to new heights, closing the annual trade at $71.96.
The price of KSM started the yearly trading on an optimistics note, although it was somewhat lower than the previous year's finish of $69. Following that, the price surpassed the $100 mark and surged to a peak of $200 by mid-February. The price of KSM continued to climb high, and by the end of March, it passed the $500 mark. The bull run kept going and KSM surged well above $600 in May 2021, maintaining a positive trend, but experienced a slight drawback.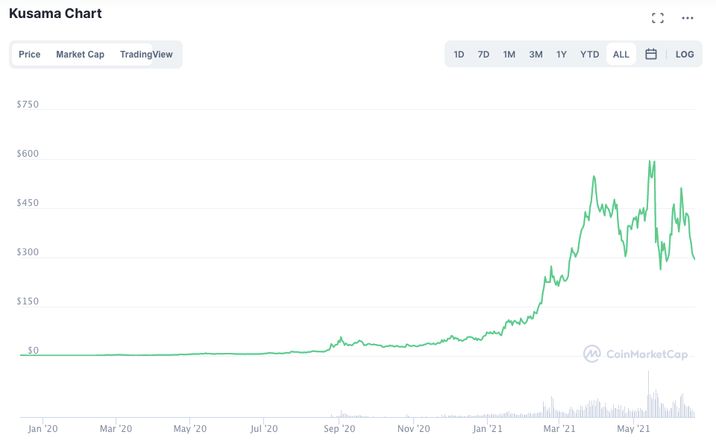 The platform is due to receive a slew of exciting updates, all aiming to improve the crypto industry. KSM is currently trading at $293.85, with a trading volume of $182,655,539 at the time of writing. It has a current market cap of $2.49 billion and a circulating supply of 8,470,098 KSM, according to Coinmarketcap.
What is the Future Of Kusama (KSM)?
There is no doubt that Kusama has a bright future ahead of it. Kusama's overall corporate plan is not merely to lead on the route to growth, but has many upgrades and partnerships set out for the near future as well. Some of the most notable of them is forming a number of partnerships and collaborations.
Kusama's KSM token, which is listed on prestigious cryptocurrency exchanges like Coinbase and Binance and also makes use of their data, provides a safe and secure platform for its raiders to invest in, as well as lower costs and a wide range of digital and synthetic assets to choose from.
All of the enhancements so far along with successful collaborations have increased the price of KSM, resulting in the introduction of a vast smart contract ecosystem. The updates have significantly increased the price of KSM, and there's definitely more to come in the next few years.
Kusama (KSM) Price Predictions
Kusama (KSM) started off the year 2021 on an optimistic route, even though it was just a slight lower than the previous year's finish of $69. As mentioned above, it passed its $500 mark back in March, and then $600 in May before seeing a minor drop at the end of the month.
With its optimistic and ambitious plans for the future along with strong market bullishness and forthcoming improvements, KSM may reach a trading price of $1000 by the end of 2021, according to crypto analysts.
The price then began trading in 2022, within a range of $750 to $920. However, the price may continue to rise during 2022, getting close to a price of $1500. In a strong bullish trend, KSM may even luckily get as high as $2000. However, there's also the scenario if the price falls, in which case it may trade between $800 and $1200 by the end of 2022.
Many other cryptocurrencies face some tough competition as a result of Kusama. With this in mind, the price of KSM may have a spectacular rise, pushing it all the way to $10,000, according to forecasting sites. KSM price may reach $7500 to $8200 by the end of 2025 if bullish momentum and market emotions along with ecosystem developments are strong enough.
Now let's take a look at what experts are individually saying about Kusama and KSM's future prices. Firstly, DigitalCoinPrice predicts that the price of Kusama will grow over the next five years and rise from $416 to $1489. By 2022, it will have risen to $698 and will most definitely follow an uphill trend all the way to 2023-2024, according to DigitalCoinPrice. Kusama is a successful long-term investment and is worth seeking opportunities within it as per the analysts at DigitalCoinPrice.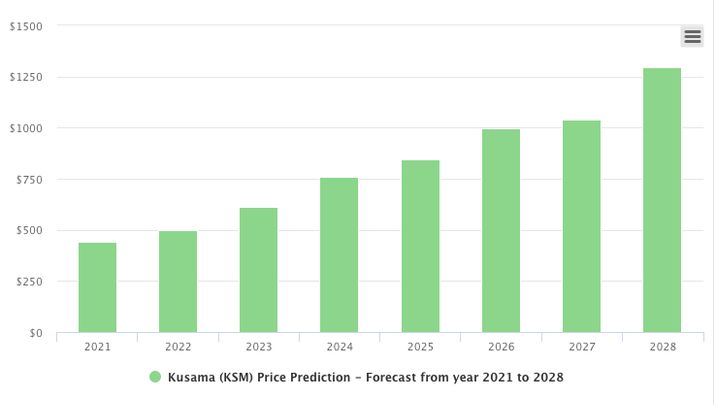 WalletInvestor often provides more optimistic forecasts and this one is no exception. According to them, Kusama's price is expected to rise from $412 to $1236 in just a year. As a result, KSM is a fantastic investment and may be the ideal investment for you. The potential for long-term profit is 199% according to them and the price at the end of 2026 is predicted to reach up to $4466.
Coinpedia is another trustworthy source for crypto forecasts and they predict that KSM may reach $850 to $930 before the end of 2021. Due to the price of KSM having shown signs of a strengthening rally and based on historical market movements, they forecast a bright and uphill trend for the future of KSM. Coinpedia forecasts that the price of Kusama (KSM) might skyrocket, reaching levels of $3800 to $4500 in the next five years.
Lastly, we have a more downsided forecast from TradingBeasts, whose answer to the issue of whether Kusama is a good investment is a loud nay. The coin's price is expected to reach a maximum of $375 in 2021 and throughout 2022 as well. They predict that it will begin growing in 2023 to an average trading price of $565 by the end of the year.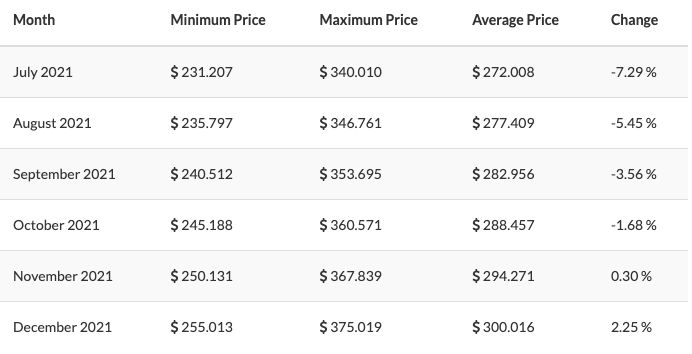 Conclusion
Kusama (KSM) has made a unique position for itself in the industry as the most productive testnet currently available. Kusama's chain's rapid speed and frequently chaotic nature creates unique and exciting prospects for both investors and consumers alike.
In addition to its position in the current market, it was not only established by Gavin Wood, an Ethereum co-founder, but it also shares the same development team as Polkadot (DOT), as well as the creative and dependable Polkadot codebase. KSM has positioned itself to be a market leader for dApp creation and blockchain development. It will likely remain one of the most active and valuable testnets for many years to come, thanks to its forward-thinking architecture and strong community of crypto enthusiasts behind it.