What is Siacoin? - Everything You Want to Know About SC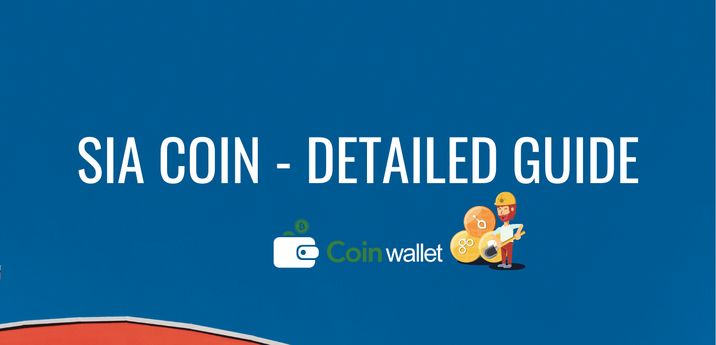 Siacoin (SC) is one of today's strongest blockchain-based, peer-to-peer (P2P) networks that function as decentralized cloud storage. If you're eager to learn more about Siacoin (SC), you've come to the right place. This article will teach you all you need to know about the project and prepare you to dive into the most user-friendly trading experience possible.
What is Siacoin (SC)?
Let's begin with the basics. Siacoin (SC) is a blockchain-based cloud storage platform that is entirely decentralized. The platform works in a way that it splits up your data, encrypts it, and then distributes it throughout their decentralized network. Being decentralized means that the Sia network has no central authority, and because it has no central authority, the whole system is democratized from end to end through the use of the P2P protocol.
Siacoin cloud storage is more safe than typical cloud storage services such as Google and also more cost-effective, with substantially cheaper costs for renting storage when compared to centralized cloud storage providers. This is all thanks to the existing style of operations. If you're someone with spare storage space and you don't know what to do with it, you can easily rent it out on the Siacoin marketplace for Siacoin tokens. These tokens are compensated by the customers who utilize it in exchange for the rented bandwidth and storage space.
Even though there are a couple of bugs and inadequacies when it comes to the expense of renting storage space, some of the most famous cloud service providers like Google and Apple continue to be gaining popularity. Siacoin's plan, on the other hand, is to hopefully attract additional users who would value Sia's low-cost storage and safe environment.
How Siacoin (SC) Works?
As mentioned above, the Siacoin network is based on a peer-to-peer (P2P) architecture that allows network users to operate as hosts and renters within a decentralized economy. Siacoin is gaining a reputation as the "Airbnb of cloud storage," with no central authority to govern or manage data ownership Users of the Sia network have complete and utter control over their individual storage space and data, while renters pay hosts in Siacoin (SC) for their services. Let's take a look at some of the different functions of Siacoin (SC).
Sia Blockchain
Siacoin's (SC) primary goal when it comes to blockchain technology is to bring decentralization to the cloud storage market. The team hopes to build a storage server that lacks the control of a single entity or authority and hence doesn't have a single point of failure. Along with decentralization of control, Sia also hopes to bring to the market a platform that will make it difficult to abuse data stored in the cloud.
Hosts
Hosts are individuals who essentially rent out cloud storage to other users on the network. Hosts can manage the cost of storage by offering storage package options and the level of service reliability. That is, the hosts are the ones who make their storage resources available for other clients to rent. A keynote is that the data and its integrity are the responsibility of the suppliers.
Renters
So while we have hosts on one side, we have the renters on the other. Renters, or customers, are the individuals who require Sia's storage services. They will pay Siacoin tokens in exchange for cloud storage on the Siacoin platform.
Renters who have access to the service can upload as much data as they like to the Sia cloud until the moment their storage limit is reached. The customer has complete control over their data at all times due to the fact that every piece of data uploaded to the network is encrypted with a private key which only the individual owner has access to.
File Contracts
The idea of File Contracts, which are similar to a type of smart contract, lies at the heart of Siacoin's unique functions. File Contracts, to put it short and simple, are based on automation and contain preset rules to facilitate communication between hosts and renters. File Contracts can get terminated if for instance, the renter failed to upload their file or if the renter uploaded the files but the host didn't achieve the targeted uptime.
Siacoin (SC)
Of course, one of the most crucial functions is the Siacoin native token, SC. The native utility token of the Sia network is Siacoin (SC). Siacoin serves the sole purpose of making network operations easier. Siacoins are used to pay for storage on the storage network, much like a form of payment. If you host hard drive space to rent out storage, you'll be compensated in Siacoins. Investors in Siafunds (discussed below) will also be compensated in Siacoins as a part of the revenue generated off of the Sia network's growth.
Siafunds (SF)
Siafunds (SF) were established as another function of the Sia network to aid in the overall long-term growth of the project. The Sia core team takes ownership over majority of the Siafunds and in the Sia network, Siacoins (SC) are utilized in order to complete File Contracts. A 3.9% fee from any storage-related transaction is immediately awarded to Siafund holders whenever file contracts are fulfilled. When a host offers out collateral, the amount reserved is evenly dispersed among Siafund holders at the end of the contract.
Proof-of-Work
Siacoin (SC) uses a Proof-of-Work consensus mechanism. Siacoins enter circulation as a result of mining incentives on the Sia network. The Proof-of-Work consensus mechanism is used by the Sia blockchain. Because Sia plans to make its way as the internet's decentralized cloud provider, there is an uncapped supply of Siacoins. With that, continual expansion and storage capacity are required in order to store additional petabytes and exabytes of data in the future.
Siacoin (SC) Price History
Sia's public beta was first made public in March 2015, and the live network was introduced to the public later on in June 2015. Since then, the Sia team made a total of 6.4 million dollars in earnings and with that, Siacoin dominated the crypto market in August 2015, thanks to the efforts of the project's team.
Siacoin began its journey with an average trading price of about $0.000042 at the time, according to Coinmarketcap's historical price data. The price continued to fluctuate throughout the rest of the year, but they managed to maintain a steady pace throughout most of it.
Fast forward to the end of 2018, Siacoin had reached a new all-time high with a trading price of $0.11, but it quickly began to fall, and by the end of the year, it was trading at $0.023. The coin dropped even further and at one point was trading at $0.0027 in the beginning of 2019. The price remained consistent throughout the year, with minor changes. At the end of 2019, Siacoin was worth $0.0013.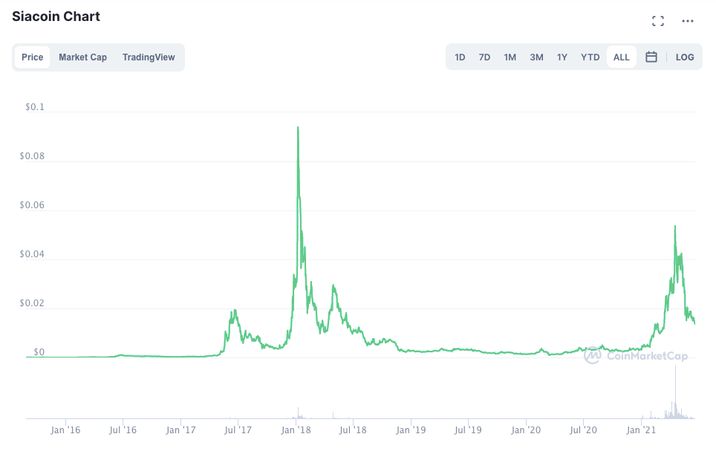 Siacoin (SC) began the year 2020 off on a bearish note, with a price to $0.0013 in early January. The price then dropped to $0.002 by the end of February. The crypto market collapsed in mid-March, as a result of the COVID-19 pandemic, and Siacoin dropped, along with every other coin, to $0.001 once again.
In early September, Siacoin broke over its barrier level, reaching $0.004 on a more positive note. Unfortunately, the price continued to fall soon after. SC fluctuated between $0.002 and $0.003 till the end of November. At the end of the year 2020, Siacoin (SC) was worth $0.003.
What is the Future Of Siacoin (SC)?
Siacoin has already published its roadmap for the upcoming future. You can officially stay on track of their plans on their website, where they have their goals and current projects all posted for you to keep up with.
In the near future, the team plans to completely redesign their user interface as well as include video streaming capability. In the medium to long-term future, they plan on executing simple file sharing both inside and outside the Sia network. They also announced that they want to support larger files, well above 10 TB as well as smaller ones, less than 100 kb. In addition to that, they also plan to activate the wallet seed for file recovery, create light clients and mobile wallets, and much more.
Siacoin (SC) Price Predictions
Now let's get to the real stuff. Where is Siacoin really headed from a monetary perspective? Because the success of Siacoin (SC) relies heavily on a number of innovations to improve cloud storage, the price is expected to rise. According to many analysts, SC may fluctuate between $0.034 and $0.058 throughout the year. By the end of 2021, Siacoin may be worth $0.20 If Bitcoin reaches $200,000.
On a positive note, the market is entering another consecutive bull run, and while Bitcoin numbers are rising, there's optimism that Siacoin will also prevail. According to multiple crypto sources, Siacoin may trade at $0.75 in 2022.
Siacoin (SC) is forecasted to also trade at a price of $0.20 in the beginning of 2023. If the investments into cloud computing platforms go as they're planned, the price may well rise. By the end of 2024, Siacoin may be worth $0.30. While this may be an overly optimistic estimate, it is not out of the realm of possibility.
There will be another Bitcoin halving event within the next five years, which will ignite the beginning of the current bullish crypto cycle. This, as a result, would have unlocked a major chunk of Siacoin's future infrastructure and would also symbolize the first decade of the coin's lifetime. Partnerships with other companies and individuals will demonstrate that Siacoin is a good investment option and thus bump up the price. By the conclusion of the next five years, SiaCoin may have surpassed the $1.5 level.
Now let's get to market predictions for Siacoin. Because SC is gaining traction, more people have begun to gain interest in it. According to DigitalCoinPrice, Siacoin (SC) is a feasible project. The average trading price of Siacoin will rise within the next year to $0.054. Over the next six years, the SC trading price is predicted to reach $0.30.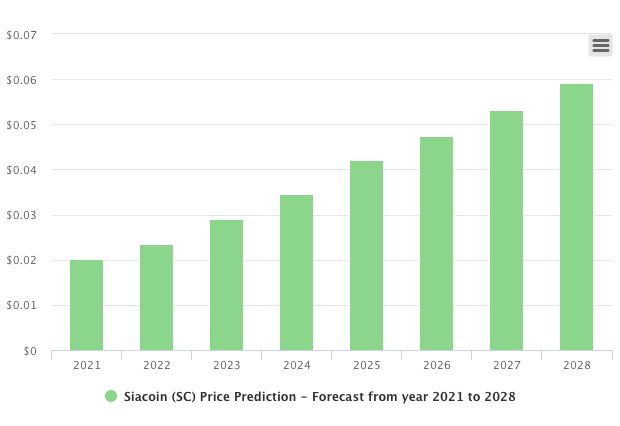 According to analysts at CryptoGround, investing in Siacoin for the long run is more on the lucrative side. They predict that in 2021, Siacoin is expected to trade around $0.05. As per CryptoGround's newest forecasts and projections, the price of one Siacoin will be around $0.25 by 2025. WalletInvestor, another notable forecasting site, is known for making reasonable cryptocurrency predictions. Siacoin is expected to reach an average trading price of $0.04 by 2022, with a price of $0.10 by 2025 according to them.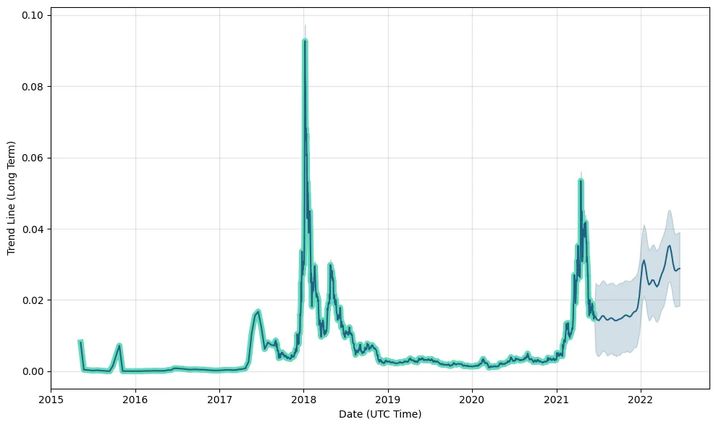 SiaCoin's value is expected to reach $0.02 by the end of December 2021, according to TradingBeasts. Siacoin's (SC) average price in 2022 is expected to be $0.08. TradingBeasts also forecasts that by the end of December 2024, SC will trade at an average of $0.15.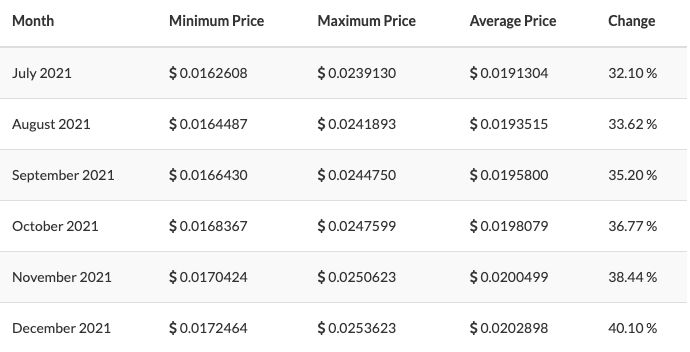 Conclusion
Siacoin (SC) is a peer-to-peer (P2P) cloud storage platform based on blockchain technology with a marketplace of cloud services that holds one of the largest reputations in the global industry. Despite the fact that Siacoin has a number of competitors such as Google and Apple (both of which hold identical features to SC), it remains one of the most popular service networks of its kind. It even offers rentable storage space as well as a safe and decentralized environment for its peer-to-peer marketplace, earning its reputable title as the "Airbnb of the cloud storage industry."
The value of SC has the potential to rise with the spread of the blockchain as long as the system operates and the marketplace evolves. With the team's plans for growth, along with additional innovations planned out for cloud storage, there is no doubt that the price of Sia will be soaring in the clouds.