SHIBA INU: Just a Meme or Something More?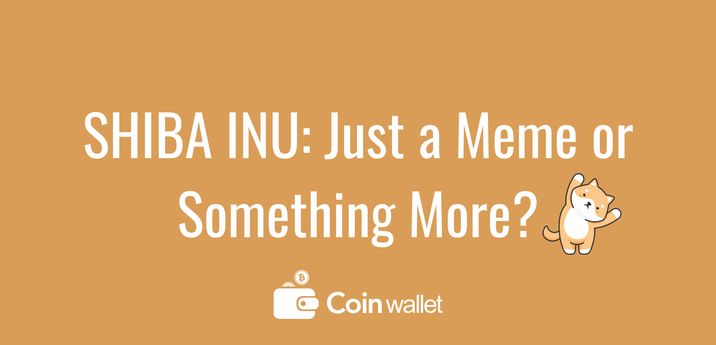 The cryptocurrency market is expanding each day, with more features being added as the market grows. Such features either aim to improve the lives of traders or simply add new services. This was the case when Ethereum changed the concept of cryptocurrencies once and for all, making them more than just a means of payment, but also an integral part of our lives. But it reached a point where some developers decided to not take a very serious approach to the cryptocurrency market. Influenced by the internet memes, Billy Markus and Jackson Palmer launched Dogecoin. Even though Dogecoin did not have the start it would have hoped to have, today it is one of the biggest cryptocurrencies to exist. However, the success of Bitcoin paved the way for other developers to launch their own 'joke' cryptocurrencies. Such cryptocurrencies have brought an unstable feel in the cryptocurrency market, as they grow overnight, but fall drastically later on. With the same concept as Dogecoin, but claiming to have a more serious approach that plans to solve some of the issues that coins like DOGE have, Shiba In (SHIB) was created.
In this article, we are going to focus on Shiba Inu and what distinguishes it from these other Dogecoin-like cryptocurrencies. Let's begin with some brief information about Shiba Inu, and then we can dive a little bit deeper into how Shiba Inu works.
What is Shiba Inu?
Shiba Inu is a Dogecoin-influenced cryptocurrency that looks to solve some of the problems that Dogecoin has, and perhaps surpass it in the market rankings in the long run. It has actually achieved to do so once as on Oct. 27, 2021, Shiba Inu, briefly surpassed the market cap of Dogecoin. No one knows if it will happen anytime soon again, but various crypto prediction sites that provide Shiba Inu coin price predictions for 2023 forecast it's quite likely for the scenario to re-occur. The native token working in Shiba Inu is SHIB, an ERC-20 standard token.
The name Shiba Inu is influenced by the Japanese dog breed of the same name, which is also the dog in the meme that influenced Dogecoin. Dogecoin was inspired by the "Doge" meme, which is one of the most viral memes of the 21st century. Similar to Bitcoin's Satoshi Nakamoto, Shia Inu's creator remains anonymous and has the pseudonym Ryoshi. Interestingly enough, there was not an Initial Coin Offering (ICO) for the funding of Shiba Inu. Perhaps, this is one of the reasons why Shiba Inu was launched without some of the features that are planned to be added to the Shiba Inu network imminently.
Shiba Inu is heavily linked with the creator of Ethereum as well, the Russian-Canadian programmer Vitalik Biterin. The Shiba Inu network gave 50% of the total SHIB supply to Buterin, which was presumably burned to promote a deflationary price of SHIB. However, Buterin did not actually burn that 50% (around 500 trillion SHIB). He used 50 trillion SHIB on a Polygon fund that was aimed to help people in India affected by the COVID-19 pandemic. While that was a considerable amount of tokens to move that could have an adverse effect on the price of SHIB, the Shiba Inu community grew even more, as a result, establishing a stronger bond between Buterin, Shiba Inu developers, and the SHIB community. Nevertheless, Buterin claimed that he would burn the remaining amount of SHIB tokens.
How Does Shiba Inu Work?
Shiba Inu coin works within the Ethereum network, using the ERC-20 token standard. What makes Shiba Inu more serious, better, and stronger than other Dogecoin-influenced projects is the newly launched ShibaSwap. ShibaSwap is a Decentralized Exchange (DEX) within Shiba Inu. Early July of 2021, ShibaSwap was officially launched, but there is still a lot of work to be done for it to be fully implemented.
So how exactly does ShibaSwap work? Within ShibaSwap, there are other tokens of Shiba Inu that users can use to exploit all the DeFi services provided in this DEX. The main features of ShibaSwap go by the names DIG, BURY, FETCH, SWAP, WOOF, and BONEFOLIO.
Using the DIG feature, you can be a liquidity provider by "digging" your tokens. As a reward for providing liquidity, the network rewards you with BONE tokens.
The BURY feature allows users to virtually "bury" the tokens, which resembles the staking feature that PoS networks have. Staking through BURY is another form way that users can earn a passive income within the ShibaSwap.
The FETCH feature allows users to easily migrate Uniswap V2 LP or SLP. Using this feature allows you to earn additional BONE tokens as an incentive to keep using the ShibaSwap.
As the name suggests, the SWAP feature in ShibaSwap allows users to easily swap their Shiba Inu tokens for other ERC-20 tokens with minimal fees since it is a decentralized exchange.
The WOOF feature allows users to "woof" the LP staked in ShibaSwap by claiming the earned tokens from staking SSLP.
Lastly, the BONEFOLIO of ShibaSwap allows users to easily access their Shiba Inu portfolio in an efficient manner. Here you can access your funds and track everything you do in ShibaSwap.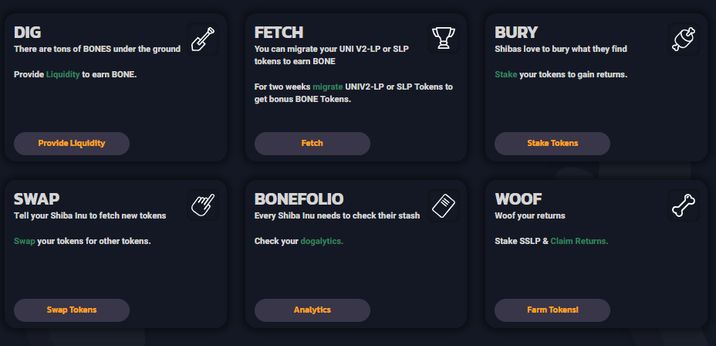 Now let's look at the tokenomics of Shiba Inu and all the tokens operating in the ShibaSwap.
The total supply of Shiba Inu is 1 quadrillion SHIB. 50% of that amount is locked in Uniswap, while the other 50% was sent to Vitalik Buterin. As we mentioned, Buterin used a portion of that amount as a donation, but the remaining amount is set to be burned. The circulating supply of Shiba Inu is around 394 trillion SHIB as of July of 2021.
Another token operating in the Shiba Inu token is the LEASH token. The total supply of this token is 107,647 LEASH. The purpose of the LEASH token was to surpass Dogecoin, and it is quite possible due to the scarce and limited supply that makes it deflationary.
Lastly, the BONE token is one of the main tokens utilizing ShibaSwap. The total supply of BONE tokens is 250 million. BONE can also be used in the governance aspect of Shiba Inu, where users can do proposals using these tokens.
How to buy Shiba Inu tokens?
Today SHIB is supported by major cryptocurrency exchanges such as Binance, Uniswap, OKex, etc. These are centralized exchanges that require additional fees for the acquisition of SHIB tokens. However, you can also use other steps that save you from additional payments. Here are the steps you can take to do so:
First, you need to buy ETH in whatever way suits you and whatever exchange you prefer. It is easier to buy ETH directly than SHIB since the former is much more supported as of now.
The next thing you need to do is open a cryptocurrency wallet such as MetaMask, which is specifically designed for the Ethereum network. Once you buy your ETH, you can transfer them to your MetaMask wallet.
After doing so, you can go to Uniswap or other decentralized exchanges that support SHIB. Once you do that, you can link your wallet address with the DEX so that the tokens you purchase there go directly to your MetaMask wallet.
Lastly, you need to locate the SHIB tokens and purchase them with the ETH you deposited in your address initially. Once you do that, you successfully own SHIB tokens. It is important to own additional ETH to pay for the gas fees that are required.
Once owning SHIB tokens, you can either keep them in MetaMask, or you can transfer them to a cold (hardware) wallet because it is much safer. You can use Ledger Nano X because it supports ERC-20 tokens.
Shiba Inu Price History
Due to the very large supply and lack of funding, SHIB debuted in the market at a price lower than $0.00000001 in August of 2020. A relatively low price of SHIB remained for the following months until the bullish trend of 2021 began with the increase of Bitcoin. The price of SHIB started increasing when even Dogecoin began its biggest price increase of all time. After several price changes in the first quarter of 2021, SHIB finally reached $0.00003 in May of this year, marking the all-time high for SIB. This was the result of a very bullish week for Shiba Inu, whose price had increased by around 3300% in a matter of four days.
The price of SHIB has dipped since then, and it is around $0.000006 at the time of writing this. With this current price and a circulating supply of 394 trillion, Shiba Inu has a market cap of around $2.5 billion. This places Shiba Inu at number 34 in the cryptocurrency rankings, which is not bad for a cryptocurrency that had no funding and was considered a 'joke' coin at first. The fully diluted market cap of Shiba Inu is around $6.4 billion.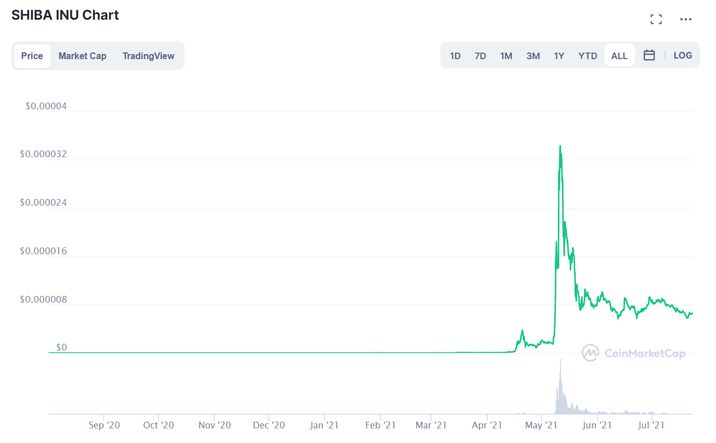 The Future of Shiba Inu
Despite the challenges that Shiba Inu has faced so far, it has managed to overcome them and let investors know that this cryptocurrency is just starting. ShibaSwap has given Shiba Inu a higher authority among meme-influenced cryptocurrencies, Dogecoin included. The full utilization of ShibaSwap is likely to increase the demand for SHIB tokens. Furthermore, Shiba Inu is also involved in several other projects.
To illustrate, Shiba Inu Rescue is a project involved in rescuing Shiba Inu dogs around the world. Since his dog breed is not very common and is very difficult to maintain, Shiba Inu Rescue makes that much easier. Amazon Smile has provided its platform so that this project is funded thoroughly. With every purchase in Amazon Smile, a portion of the payment is designated to charitable organizations. You can choose Shiba Inu Rescue as the desired organization if you ever want to purchase products through Amazon Smile, and you can contribute without having to pay any additional fee. Such an initiative has made Shiba Inu a respectable cryptocurrency network, and it may likely grow its community if it continues at this pace.
Additional updates in the Shiba Inu network are likely to take place. For example, Shiba Inu plans to focus on the NFT field in the long run. NFTs have become so vital in the cryptocurrency game, and Shiba Inu is looking to mint official Shiba Inu NFTs in the future. The NFT integration is very important for a constantly growing network such as Shiba Inu. Furthermore, NFTs can help increase the Shiba Inu community even more, consequently driving the demand for SHIB, which may increase its price in the future.
As a project within Ethereum, Shiba Inu may also shift from PoW to PoS, promoting an eco-friendly solution to the carbon footprints that are a result of PoW mining. Features such as staking are already present in the ShibaSwap, and a transition to the PoS network can help Shiba Inu even more.
Shiba Inu Price Predictions 2021
Based on all the price factors that Shiba Inu has, including the 50% supply burn from Buterin, as well as its community engagement, Shiba Inu can easily grow in the long term. If the market has a rebound in the bullish aspect, SHIB can easily outgrow its all-time high in the next 12 months. As for the longer term, Shiba Inu may easily reach $0.0001. If SHIB manages to surpass Dogecoin in the long term, a price of $0.01 is also achievable in the long term.
Predictors such as Wallet Investor also predict a steady increase of Shiba Inu. The price of SHIB may more than double its all-time high in the long run.

YouTuber CashFlow Media gives a careful analysis on all the price factors that Shiba Inu has. Other things equal, if Shiba Inu becomes accepted worldwide and announces partnerships with large institutional investors, it can go up to $0.01 in the long term, but not limited to. The cryptocurrency rating website isthiscoinascam.com has provided a full safety profile of Shibu Inu and although Shiba Inu is just a dog-themed meme token, it is still rated higher than thousands of other projects on the site.
Conclusion
Whether Shiba Inu can continue the hype that has been building around it and even potentially "kill" Dogecoin, remains to be seen. Cryptocurrencies in general are very uncertain when it comes to the future. However, Shiba Inu has differentiated itself from some of its competitors with ShibaSwap. Further additions can only keep benefiting Shiba Inu as a project. To conclude, the future of Shiba Inu looks very exciting.