What is Polygon? - Everything You Want to Know About MATIC?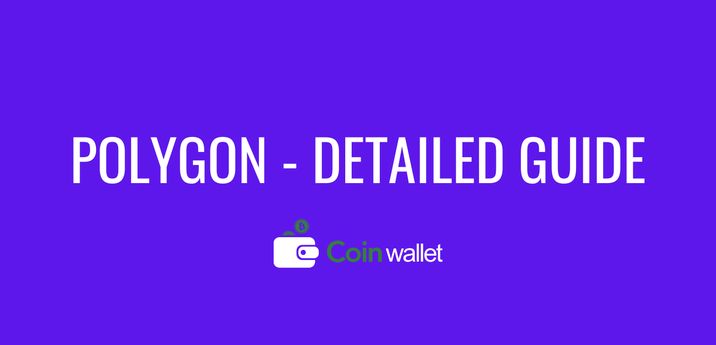 Ethereum is fantastic – it's the most popular center for DeFi development and, in terms of miner and node activity, there's no doubt that it's the most secure smart-contract enabled blockchain. However, there are a few unfavourable drawbacks to Ethereum. It doesn't work too well with other blockchains, and it has very big congestion problems as a result of high user demand. Polygon (MATIC), a framework for creating Ethereum compatible blockchains, might however be the answer to Ethereum's long, unsolvable problems.
Polygon is the answer to some of Ethereum's current significant difficulties, such as exorbitant fees, a not-so-great user experience, and scalability. The Polygon platform aspires to build "Ethereum's internet of blockchains," or a multi-chain ecosystem of Ethereum-compatible blockchains.
What is Polygon (MATIC)?
Polygon, which was formerly known as the Matic Network (rebranded in February 2021), is a layer-2 network designed with the goal to increase Ethereum's scalability and improve interoperability amongst a number of various blockchains.
Polygon is often referred to as "Ethereum's internet of blockchains," an easy-to-use platform for Ethereum scalability and infrastructure development that's represented by the MATIC token symbol. Polygon's new sidechain solution aims to tackle some of Ethereum's key flaws, for instance poor user experience (high latency transactions), lack of community control, and inadequate throughput.
Polygon SDK, the platform's basic component, is a versatile modular framework that aids in the development and supports a wide range of applications. The Matic Network brought to life an ecosystem that enables a cheaper, easier, and faster introduction of decentralised apps (DApps) to the market using Plasma side chains. Plasma is a platform for quickly constructing decentralized apps that can communicate with one another. Plasma side chains are made to support off-chain transactions, making them quick and cost-effective for blockchains. Polygon's solution's appeal was bolstered as a result of the high gas rates on Ethereum and rising demand for dApp development.
Polygon developed a layer-2 network to support developers in building Ethereum compatible and interoperable blockchain networks. Builders have the option to develop sovereign blockchains with adjustable functionality because of its modular design. A custom WASM execution environment, scalable consensus methods, and modular "security-as-a-service" capabilities are all available on the Polygon platform. Polygon (MATIC) is now capable of building enterprise-ready blockchain networks and is able to provide cost-effective, near-instantaneous transactions.
The MATIC token was created by Sandeep Nailwal, Jaynti Kanani, and Anurag Arjun with the aim of being used for staking and boosting user experience. Plasma is used by Polygon to create decentralized apps (DApps). MATIC just announced that they would be joining Polygon. The MATIC network is now known as Polygon, but the coin that powers it is still named MATIC.
How Polygon (MATIC) Works?
Polygon validators run and process checkpoints against the Ethereum main chain on a regular basis. Via cryptographic proof, this system provides a means for resolving any transaction disputes that arise on the sidechain.
Users can also move tokens between MATIC using this protocol without experiencing third-party risks or market liquidity constraints. Tokens that leave the Ethereum network are frozen and displayed on the MATIC network as newly generated pegged tokens on a one-to-one ratio. When the user returns to the Ethereum network, the pegged tokens are burnt.
Security behind the Ethereum network is critical to Polygon's operation, however it's the ability to retain security while also allowing for scalability that makes it intriguing. Polygon already implements and operates the proof-of-stake method Ethereum 2.0 plans to reach early next year. This is opposed to Ethereum's current proof-of-work consensus procedure, which is expensive and overall inefficient in terms of processing resources.
On top of the proof-of-stake consensus process, Polygon also employs the Heimdall architecture, which was popularized by Cosmos. Unlike standard proof-of-work blockchains, which allow any participant (miner) to validate transactions and generate blocks, Heimdall instead selects block producers at random among the network's proof-of-stake validators.
This dual-consensus approach promotes decentralization while also maintaining a high level of transaction throughput, resulting in network scalability. On a single sidechain, internal test networks have witnessed over 7,000 transactions per second (TPS), surpassing the Ethernet mainnet's current capacity of 14 transactions per second.
Polygon (MATIC) Price History
MATIC network initiated its crypto journey on April 29th, 2019 with a launching price of $0.004. After this, the coin began to slowly climb its way up. By the end of May, the price had reached a peak of $0.03. Then by early June, it had dropped to $0.01 again. Later on, up until the end of July, the token's price remained steady at $0.02 with only a couple of minor fluctuations.
By surprise, in early August 2019, the token had dropped to $0.01 and had remained at that level with slight adjustments until the end of November. By early December 2019, MATIC had effectively risen to $0.04, gaining the sharp attention of investors. By mid-December, the token had plummeted once again below $0.01. MATIC was trading at $0.014 at the end of 2019.
The MATIC started off 2020 by trading at an average price of $0.014 at the start of January, indicating a bearish trend going into the year. Later on, the price began to fluctuate, eventually reaching $0.02 in February. By mid-March 2020, the cryptocurrency had plummeted to $0.006 along with the rest of the crypto market due to the COVID-19 outbreak. By the end of May, the price had begun to rebound and had recaptured its resistance level of $0.025.
Following this, the token peaked around $0.031 in mid-August before heading back down to $0.012 at the start of November. MATIC was eventually trading at $0.017 by the end of December 2020.
MATIC kicked off the year 2021 with an average trading price of $0.0018. The price slowly began to climb throughout the months. For the advancement of the protocol, the community may partner with particular initiatives and businesses. MATIC is currently trading at $1.89 according to Coinmarketcap. It currently ranks as #15 in terms of market capitalization and is holding a market cap of $11,732,882,911.50 at the time of writing. It reached its all-time-high on May 18th 2021 at a price of $2.68 and has a standing circulating supply of 6,211,590,053 MATIC.
What is the Future Of Polygon (MATIC)?
The competition is on for Polygon to be the first fully operational interoperability solution. Polygon's proof-of-stake chain and Plasma scalability solution are now in play, however developers will not be able to establish their own independent or shared security chains until these features become available.
At the same time, Polygon's competitors are likewise rushing to launch their products. Polkadot has yet to introduce public parachains as of March 2021, and while Cosmos' Stargate update has seen the launch of its Inter Blockchain Communication Protocol (IBC), the network will not be fully operational until IBC transactions are enabled.
Polygon was only just announced in February 2021, so with that said there isn't yet an established roadmap outlining how it will progress or which features will be prioritized. Polygon's team, on the other hand, has been hard at work building on collaborations with companies like Umbria, Mogul Productions, OpenPredict, and Atari. They are working towards their plans to launch its first speculation market product on the platform.
On top of just its collaborations, Polygon intends to turn Ethereum into a "Internet of Blockchains" by developing an extra scaling infrastructure and a full-fledged multi-chain ecosystem. Polygon now has more direct assistance from important Ethereum developers than it has ever had before, with numerous Ethereum community members joining Polygon as advisors and team members. This overall poses a great benefit to the project's continued growth and success.
While Polygon's timeline is definitely ambitious, the project has equipped itself with the necessary technology, support, and expertise to fulfill its goals. Although the extent to which Polygon can assist in scaling the Ethereum network is unknown, the advantages of doing so cannot be overestimated.
Polygon (MATIC) Price Predictions 2021
By early January 2021, MATIC was still trading at an average price of $0.0018. Keeping the positive trend going, the price ultimately reached an all-time high on May 18th, hitting $2.68. After hitting this ultimate price, the Ethereum scaling solution incorporated a number of prominent decentralized finance (DeFi) projects. This resulted in a massive increase in the number of transactions it handles each day, therefore keeping the price high.
Polygon has performed over 62.4 million transactions since its launch and has approximately 700,000 wallet addresses, according to statistics from a MATIC network explorer. It processes on average 3.3 million transactions each day, each of which costs less than one cent in Bitcoin.
Overall, certain partnerships with Polygoin may lead to improvements in the protocol and platform, boosting popularity and general adoption of the token. If the MATIC fails to reach consumers, it might plummet to as low as $0.2. If the coin concentrates on attracting more users and investors, it may without a doubt reach new heights.
According to Coinpedia, MATIC might be worth $5 at the end of the year 2021. MATIC may then set back a little bit and begin trading at $1.25 in the first week of January 2022. If it attracts the attention of investors and additional users, the price may rise to unprecedented heights. If the currency faces supply pressure, the token might fall below $0.55. Eventually the cryptocurrency might be worth $15 by the end of 2022, according to Coinpedia.
MATIC is forecasted to be among the top 10 cryptocurrencies in five years, smashing past price records. Its expansion might be aided by a number of incoming projects and collaborations with large global companies. If bears continue to drive prices down, the token may also potentially crash. It's possible that the price may drop to $3.15 if so. However, Coinpedia also forecasts that if everything goes well over the next five years, the MATIC price might reach $50.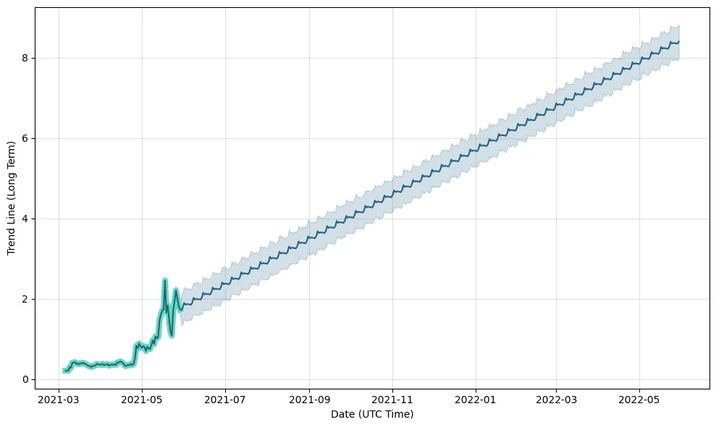 MATIC is forecasted to trade for $0.09 by the end of 2021 and increase over time to $0.48 by the end of 2025, according to Gov.capital. Capital.com also estimates that MATIC will trade for more than $1 by the end of 2025, and above an average price of $1.5 by the end of 2028, according to their projection. MATIC is expected to sell at an average of $0.65 by the end of 2021, and at $1.24 by the end of 2025, according to DigitalCoinPrice. As per the predictions set forth by Cryptonewz, the MATIC price is predicted to reach $1 by the end of 2021 and $1.3 by the end of 2022, on a more optimistic note.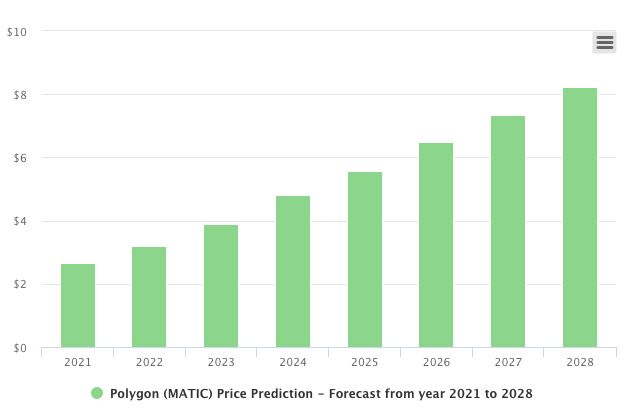 Conclusion
The Matic Network, now known as Polygon, is a new cryptocurrency that operates on a scalable blockchain architecture. It uses a Proof of Stake (PoS) side chains mechanism with the goal of performing safe, extensible, and fast transactions. It allows users to send and receive cryptographic tokens and transfer payments for free using the Ethereum network.
It's always important to remember that you should only invest what you are ready to lose with Polygon, as with any other cryptocurrency investment. While the cryptocurrency markets are on their way to becoming mainstream, there are still a number of hazards that are both known and undiscovered.
Layer 2 technologies such as Polygon, however, also present a fantastic chance to join in the ever-expanding realm of decentralized finance without paying exorbitant transaction fees to miners, while network congestion continues to afflict users on layer 1 networks. With strong collaborations and further updates to its protocol, there's no doubt that Polygoin may be a worthwhile investment for the near future.